Welcome to a realm of opulence and tranquility nestled amidst the majestic mountains of Shimla. Taj Theog Resort & Spa, a prestigious 5-star hotel in Shimla, awaits your arrival, ready to whisk you away on an unforgettable journey of luxury and relaxation. With its impeccable service, breathtaking surroundings, and world-class amenities, Taj Theog offers an experience that epitomises indulgence at its finest. Allow us to guide you through the myriad delights that await you at this enchanting haven.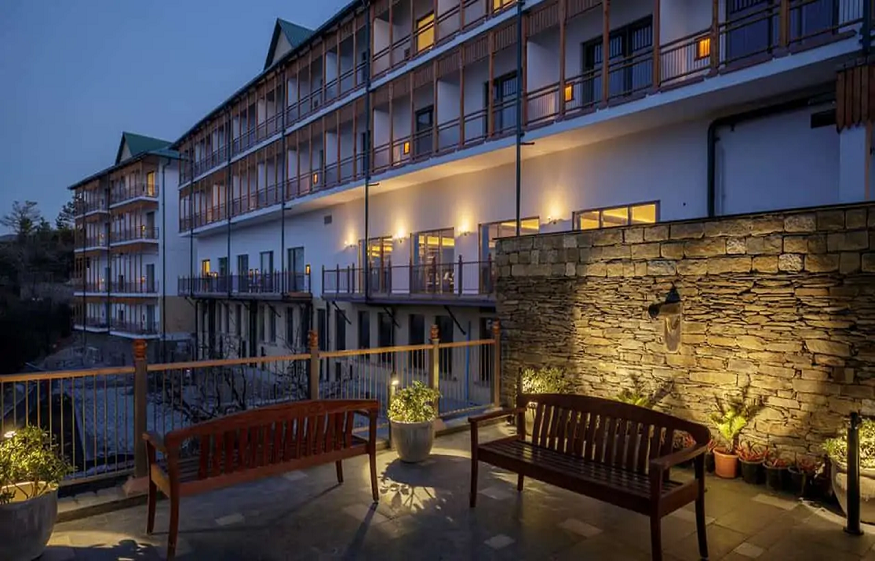 Unmatched Accommodation in Shimla
Step into the lap of luxury as you enter your elegantly appointed room or suite at Taj Theog. Each meticulously designed space offers a seamless blend of traditional charm and modern comforts. From the plush furnishings to the tasteful decor, every aspect of your accommodation has been thoughtfully curated to provide you with the utmost comfort and style.
Awake to panoramic views of the snow-capped Himalayas and breathe in the crisp mountain air from your private balcony. Luxuriate in the lavish marble bathroom, with indulgent bath amenities and a rain shower. Relax on the sumptuous king-sized bed adorned with fine linens, ensuring a restful night's sleep. Every detail has been considered to make your stay an unforgettable experience.
Exceptional Dining in Shimla
Savour the finest gastronomic experiences at Taj restaurants in Shimla, where culinary excellence knows no bounds. Indulge your taste buds in various dining options, each offering a distinct ambience and an array of tantalising flavours.
TRAGOPAN: Delight in the exquisite flavours of regional Himachali cuisine at TRAGOPAN. The restaurant showcases the region's rich heritage through its curated menu, prepared with the freshest local ingredients. Immerse yourself in the warm and inviting atmosphere as you savour the delicate spices and flavours that make Himachali cuisine truly unique.
Patiala Room: For an unparalleled fine-dining experience, Patiala Room. This elegant restaurant showcases a fusion of global flavours expertly crafted by our talented chefs. With an extensive selection of fine wines and spirits, it offers the perfect setting for a romantic dinner or a celebratory feast.
Indulgent Experiences
Beyond the luxurious accommodations and delectable dining, Taj Theog offers a plethora of experiences to captivate your senses and create lasting memories.
Spa and Wellness: Pamper yourself at our world-class spa, where expert therapists await to rejuvenate your body and soul. Choose from a range of revitalising treatments and therapies designed to soothe and restore. Unwind in the tranquil ambience and let the cares of the world melt away.
Outdoor Adventures: Explore the breathtaking natural beauty surrounding Taj Theog through a variety of outdoor activities. Embark on invigorating hikes, take a leisurely stroll through the picturesque trails, or indulge in adrenaline-pumping adventure sports. The hotel's expert guides will ensure your safety and guide you through the wonders of the Himalayas.
Cultural Immersion: Immerse yourself in Shimla's rich local culture and heritage. Engage in traditional arts and crafts workshops, witness captivating folk performances, and gain insights into the customs and traditions of this enchanting region.
Taj Theog beckons you to embark on a luxury escape like no other. You will be enveloped in a world of elegance and refinement from the moment you arrive. Indulge in the lavish accommodations, savour exquisite culinary delights, and immerse yourself in a host of exceptional experiences. Let the beauty of Shimla and the warmth of Taj Theog's hospitality leave an indelible mark on your heart. Book your stay now, and let us redefine your understanding of luxury.