When it comes to packing for your honeymoon, deciding what to bring can be difficult. You'll want to be prepared for every picture-perfect moment without having to lug around bulky suitcases. That is why we have compiled the ultimate packing list for a one-week trip. Add more days, subtract days, and go into your trip knowing you've packed everything you'll need for the trip of a lifetime. So let's see what to pack for your honeymoon in Greece.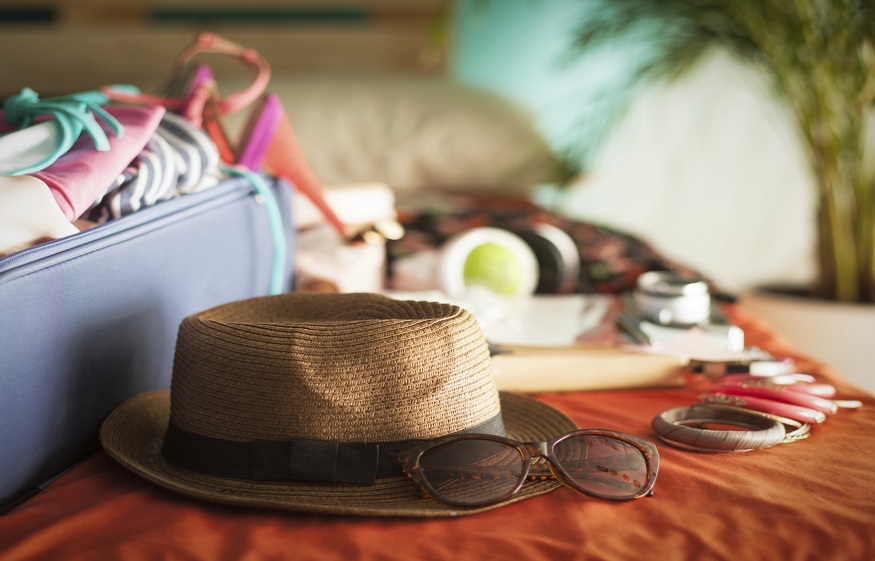 1. Begin with your list.
You'll want to take stock of what to bring, whether it's a joint packing list or a spreadsheet broken down categorically (think: travel essentials, outfits, and accessories). Depending on the nature of the trip, we recommend breaking it down by section. A tropical vacation, for example, should include beach essentials or swimwear such as bathing suits, cover-ups, sun hats, and beach bags. Before packing all of these things check out various Greece honeymoon packages and choose and book the one that suits you best.
A sightseeing trip, on the other hand, would necessitate walking shoes, a crossbody bag, and other items. In all cases, you'll want to invest in sturdy luggage, either a spacious and luxurious piece or a lightweight and durable carry-on option. After you've created your initial list, consider colour-coding items to distinguish between what you already have and what you need to buy travel the world best tourist destinations .
2. What to Put in Your Carry-On Bag?
Make sure your essentials are easily accessible in your carry-on (and to be safe in the event your luggage happens to get lost). If it isn't on this list, you are free to pack it in your checked luggage.
Driver's license/passport
Credit cards (make sure your bank is aware of your travel plans!)
Cash
1 paper copy of all travel documents
Medications on prescription
Toiletries essentials (face wash, toothbrush/toothpaste, deodorant)
A minimum of one change of clothing
Mobile phone and charger (and adaptor if leaving the country)
Charger and e-reader (or books and magazines)
a deck of playing cards
Earplugs, a neck pillow, and an eye mask (optional but recommended!)
3. What should you pack for your honeymoon?
Wherever you're going, pack clothes and shoes that are both comfortable and stylish. This includes travel shoes that can be dressed up or down, as well as dresses that can be worn on the plane as well as to a five-star restaurant. Limit yourself to four or five tops and two to three bottoms (pants/shorts/skirts) if you want to travel light, and pack individual packets of laundry detergent so you can wash your dirty clothes.
For him:
Shirts with buttons
Blazer or sport coat with a tie
One pair of formal pants
Dressy (yet comfortable) shoes
T-shirts
Shorts/pants for everyday wear
2 or 3 bathing suits
Pajamas/sleepwear
Socks
Underwear
A minimum of one sweatshirt, sweater, or light jacket
a raincoat
If necessary, cold-weather outerwear
one pair of sandals or flip-flops
1 pair of walking shoes
Sunglasses
Reading glasses or prescription glasses
Hat
For her:
At least one formal dining outfit with matching sweater/shawl
At least one attractive top
Nice capris or pants
One pair of heels or a pair of dressy flats
Small handbag or clutch
A few inexpensive pieces of jewellery: If your engagement ring attracts the attention of thieves, you should leave it at home.
T-shirts/tops for everyday wear
Shorts/pants/skirts/dresses that are casual
2 or 3 bathing suits
Cover-up
Pajamas/sleepwear
Socks
Underwear and bras
A minimum of one sweatshirt, sweater, or light jacket
a raincoat
If necessary, cold-weather outerwear
one pair of sandals or flip-flops
1 pair of walking shoes
Sunglasses
Reading glasses or prescription glasses
It all comes down to travel size.
Forget about those bulky shampoo, moisturiser, and sunscreen bottles. Obtain reusable, travel-sized containers for your liquid toiletries. By reusing your containers on your trips, you will save space and money while also helping to reduce your plastic waste. You'll also be able to stay under the liquid limit if you only bring a carry-on travel the world tourist attractions places .
You could also use solid toiletries. Shampoo, moisturiser, deodorant, and toothpaste are all available in bar or solid form. You'll almost certainly save even more space and waste, and you won't have to worry about transporting liquids. Win-win!
4. What not to bring to Greece?
Excessive or costly jewellery, accessories, or devices You don't want to be a pickpocket's target, and you don't want to risk losing something valuable on your trip.
There are numerous books. One is sufficient, but if you read frequently, consider purchasing an e-reader.
A blow dryer. Leave your hairdryer at home unless you absolutely must. Your hotel will almost certainly have one, or you can bring a travel-sized hair dryer to save space.
5. What to Bring to Greece in the Spring and Summer?
While the cities, countryside, and island retreats are always open, the majority of visitors to Greece come during the summer. Most people are willing to brave the crowds and wait in long lines to be there when the skies are clear, the water is warm, and the sun shines brightly.
If you want to avoid the peak season crowds, consider visiting your Mediterranean destination during the shoulder season of mid-April to early June, or even later in September when temperatures drop with the arrival of autumn air.
Examine the specific areas to which you'll be travelling. Temperatures will differ between cities and coastal areas.
Keep both digital and paper copies of important documents.
Most travel documents can be stored electronically but experts always recommend having two backups (paper and screenshot). For boarding passes, passports, driver's licence, vaccination cards, travel insurance information, QR codes, and other items, follow this advice.
If there are any problems reading your phone, you'll have paper backups to avoid delays.
Experts also advise leaving a copy of your travel documents (including your passport and any visas) with trusted friends or family members. Having access to a copy of your passport will make issuing an emergency passport easier if you lose your passport.
Because a honeymoon is a once-in-a-lifetime experience, you'll want to pack appropriately for all the fun ahead (swimsuits and all). Begin by thinking about your honeymoon destination and the activities you've planned. Then, consider the average weather at the time of your trip, which is especially important when travelling to tropical destinations, as well as any required dress codes, particularly at certain high-end resorts, which require dresses, slacks, and close-toed shoes.