Bali is a beautiful island in Indonesia, filled with captivating sights and landscapes. It's no wonder that it's one of the top destinations for photographers looking to capture its beauty on Instagram! But where are Bali's best spots for taking stunning photos? We've got you covered – here's our guide to some of Bali's most photogenic places.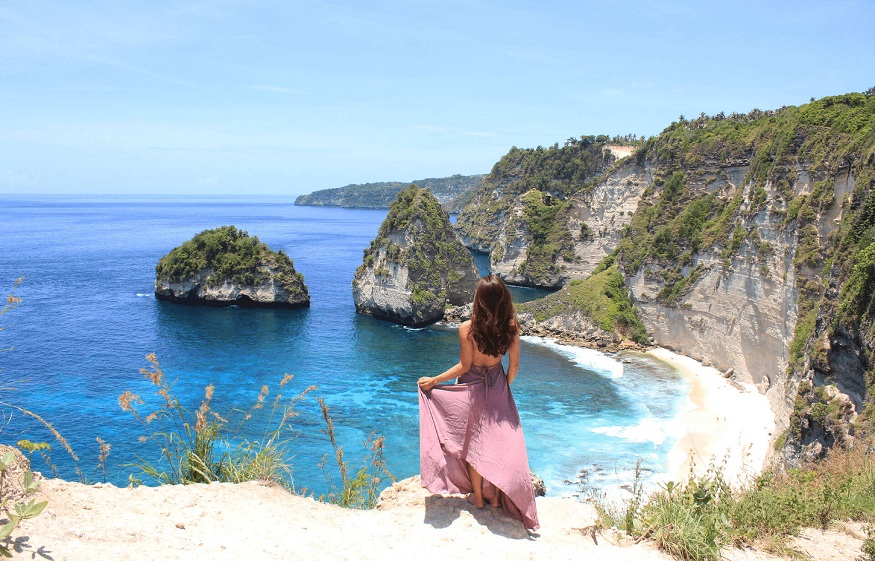 Whether you're an amateur photographer or a seasoned pro, you can take great shots at any of these locations. From breathtaking waterfalls and striking temples to hidden gems off the beaten path, there's something for everyone. And with picturesque sunsets and plenty of tropical greenery around every corner, your feed will be full of envy-inducing images.
So if you wanna get snap happy during your next trip to Bali, read on – we'll show ya exactly what this paradise has in store!
Overview Of Bali's Photogenic Landscape
Bali is an island paradise, a place of breathtaking beauty that's made for capturing with a camera. Its lush jungles and dramatic volcanic mountain peaks provide the perfect backdrop for stunning shots. Everywhere you look in Bali, there are gorgeous beaches, crystal-clear turquoise waters, pristine coral reefs, vibrant cultures and unique wildlife to capture. It's no wonder why so many visitors flock here to get their Instagram fix!
The best part about taking photos around this exotic island? You don't need to be an experienced photographer – as long as you've got your phone or a good camera and some creative ideas, you can take amazing snaps at any of Bali's photogenic spots. From terraced rice paddies to centuries-old temples, vibrant markets full of local colour to towering waterfalls – it won't take long before your social media pages are filled up with incredible images from your Balinese adventure!
Popular Scenic Destinations
Right off the bat, let's start with one of Bali's most famous and photogenic destinations: Mount Batur. This active volcano is located in central Bali and offers stunning views from its summit, as well as a few other great spots for taking pictures. From the top of Mt. Batur, you can see all across the island, capturing some amazing sunrises or sunsets, depending on when you go there. It's certainly worth making the trek up to this peak if you're looking for something truly spectacular!
Another highly recommended spot is Uluwatu Temple. Sitting atop a limestone cliff just south of Jimbaran Bay, it offers incredible vistas that are sure to impress any Instagrammer. The best time to visit would be during sunset, where you'll get an excellent view of the sun setting over both the temple and bay below. Make sure to bring your camera gear so you don't miss out on this once-in-a-lifetime opportunity!
The landscape of Bali has plenty more beautiful places to offer too – from beaches like Padang Padang and Batu Bolong to waterfalls like Nungnung and Gitgit – so no matter what kind of shot you're after, you should have no problem finding something perfect here in paradise!
Iconic Historic Sites
Bali is home to many iconic and historic sites that make for great Instagram posts. With its rich cultural heritage, there's a wealth of places to capture forever. From ancient temples to crumbling ruins, the island is full of photos waiting to be taken.
Awe-inspiring temple complexes such as Uluwatu Temple and Tanah Lot offer travellers breathtaking views and opportunities for reflection. The centuries old architecture has withstood time's test, continuing to serve as spiritual center for local Balinese people. Equally captivating are Bali's traditional villages where age-old customs still remain intact against the backdrop of modern development around them. Epic scenes like these speak volumes about the beauty of tradition in daily life here in Bali – all captured from behind your camera lens!
From sunrise shots at Gunung Kawi or Tirta Empul Water Temple to spectacular sunset vistas from Mount Agung or Segara Beach, you'll never run out of instagramm able spots on this magical island. Whether it's capturing a moment in history or just soaking up the stunning scenery, take it all in through the viewfinder – one shot at a time.
Capturing The Natural Beauty
Bali's natural beauty is a photographer's dream. There are stunning landscapes, lush greenery and pristine beaches to explore. The island's volcanoes offer breathtaking views from the top, while its coastlines promise gorgeous sunsets. Head to Uluwatu Temple for some of Bali's best vistas, or take your camera down to Jimbaran Beach for an incredible beachside sunset shot. Don't forget about the rice paddies! These rolling terraces make for iconic shots that will leave you with unforgettable memories. If you're feeling adventurous, why not try capturing one of Bali's many waterfalls? Tegenungan Waterfall is particularly picturesque and can be reached easily by walking through Ubud's rural villages. Take your pick – whatever spot you choose, you won't be disappointed!
Best Times To Visit Each Spot
As the saying goes, timing is everything – and that certainly holds true when it comes to capturing Bali's beauty in photos. Although some of these spots can be visited year round, certain times offer better lighting or fewer crowds for a more enjoyable experience.
Ubud's iconic rice terraces are best seen during the harvest season from June to September when the fields turn bright golden-green. The vibrant colours make for stunning photographs as well as an opportunity to witness traditional Balinese farming practices up close. For Watu Klotok Beach on Nusa Lembongan, late afternoon is ideal thanks to its spectacular sunsets which reflect off the ocean waves. If you're visiting Uluwatu Temple at sunset, then aim to get there early so you don't miss out on this breathtaking sight.
Tanah Lot offers great photo ops all day long but sunrise and sunset often provide the most magical backdrops with dramatic skies contrasting against its iconic temple silhouette. With Ubud Monkey Forest, morning hours tend to draw less visitors while still providing plenty of time to snap pics of both the monkeys and their lush home amongst the trees.
Rules And Regulations For Photographers
Before embarking on a photography journey around Bali, it's important to understand the rules and regulations that govern this beautiful island. There are certain areas of temples and cultural sites in Bali which are off-limits for photography, so be sure to research these before you go. Additionally, some locations may require permission from local authorities or elders prior to photo taking.
It is also important for photographers to respect locals, their belongings, and their space when capturing images. Don't take photos without asking permission first and always offer money if someone agrees to have their photo taken – never assume they will do it for free! Finally, don't forget that some personal items, such as cars can not be photographed – even with owner's consent – due to privacy laws. So it's best to check what type of subjects you can photograph in each location before setting up your shot.
What To Pack Before You Go
As the sun rises to greet you, it's time to make sure that your luggage is packed with all the essential items necessary for capturing Bali's beauty through photography. It can be easy to forget some of these items in the heat of preparation, so take a few moments and go over this list one more time before heading out!
When packing for Bali's Instagram-worthy spots, think of yourself as an artist carrying their supplies: like paintbrushes and paints, there are certain tools needed for crafting amazing shots. Atop any photographer's checklist should include extra batteries or charger cords; a spare memory card; lens filters; and tripod stands – each item as crucial to catching those breathtaking images as if they were pieces of gold. You'll also want to bring along sunscreen and insect repellent – two must-haves when dealing with tropical climates!
No matter how well prepared you may be though, never underestimate the power of spontaneity. There will always be new angles to explore on the island, both personal and creative. So come armed not only with essentials but also curiosity – just like taking a blank canvas out into nature and allowing the environment around you shape what comes next. With open eyes and heart, who knows what kind of hidden gems lie waiting around every corner?
Recommended Equipment List
Taking stunning photos of the picturesque island of Bali is an absolute must. But to capture its beauty properly, you'll need a few essential items in your equipment list. First and foremost, a good quality digital camera is necessary for shooting clear shots with accurate colours and sharp details. Investing in a tripod will also be beneficial for taking nighttime or low light photographs by ensuring that the image doesn't appear blurry due to the movement of the camera. A wide-angle lens can help you get all the elements into the frame without having to move away too far from the subject. And lastly, if you want to take selfies while exploring these photogenic spots, don't forget your selfie stick!
No matter what equipment you decide on using, always remember to carry extra batteries or memory cards along as they are invaluable when out shooting. When you have all these items packed up safely, then it's time to explore some of Bali's best instagramm able spots and start snapping away!
How To Share Your Photos On Instagram
When you've got the perfect shot of Bali, it's time to share it with the world! Instagram is a great platform for showing off your work and connecting with other photographers. Sharing photos on Instagram can be done in just a few simple steps:
First off, make sure you're using quality images that really show off what makes Bali such a beautiful place. Then create an eye-catching caption that will draw people into your photo – use hashtags to help others find your post more easily. Finally, tag any accounts relevant to your photo and click 'Share'.
Now that your image is out there, don't forget to engage with fellow photographers who comment or like your posts. Showing appreciation for their work is a nice gesture, plus it could lead to new opportunities down the track! So get sharing and see where it takes ya!
Conclusion
In conclusion, there is no doubt that Bali's photogenic landscape offers some of the best Instagram spots in the world. For those looking to capture its beauty and share it with others, there are many tips and recommendations on how to do just that.
Packing the right equipment can make all the difference when shooting photos in Bali – but don't let this intimidate you! You don't necessarily need a full professional set-up; even an iPhone or other smartphone camera can take stunning shots if used correctly. Plus, you'll be able to carry your gear around more easily than lugging a bulky DSLR camera everywhere.
Ultimately, taking great photos of Bali's incredible sites doesn't have to be hard work – just follow these guidelines and you're sure to create something worth sharing on social media for years to come! So what are you waiting for? Get out there and start capturing some amazing memories from one of the world's most beautiful places!